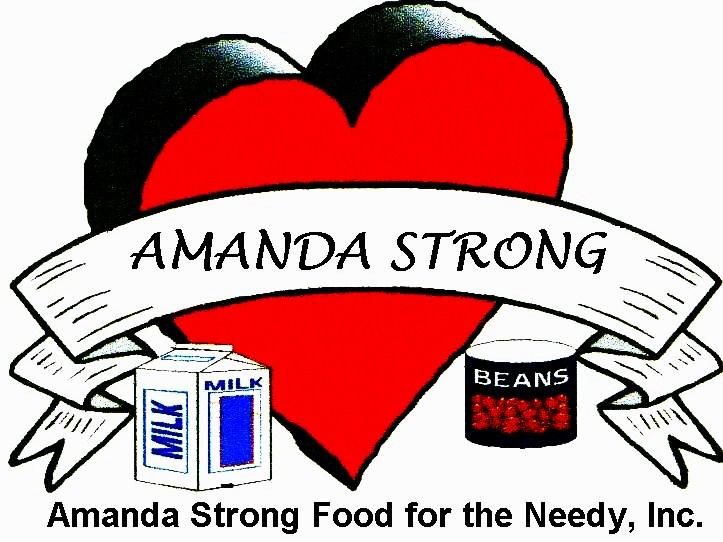 Due to the Covid-19 I am having to change things around from the usual way I do
My program. I am trying to get donations in the form of checks and gift cards so I can help those in need
by giving gift cards for toys , clothes, and food. I have health problems that I can't be around a large group of people. I wont have a place to put everything together and I cant take a chance being around
all the people that I need to get everything ready. ..Please let me know if you can help.
A community effort supporting its neighbors in need.

Sponsored by
Sharon Hodson & Family
19120 Tomlinson Road
Westfield, Indiana 46074


Mission Statement:

We are not put on this earth just to see one another,
but to see one another through."
History...
The Amanda Strong Food for the Needy, Inc. program is a non for profit effort. This program was created in 1980 by a wonderful woman, Amanda Strong, a native of Westfield. She started this program in her home turning her garage into a food, toy, and clothing pantry.
Amanda had a big heart and could not bear the thought of a family going hungry, or that a child would be in need of clothing and not receive presents at Christmas time. It was her beautiful, giving heart that inspired the logo used today. Sharon Hodson began assisting Amanda Strong in 1981.

In Sharon's words: "I had the good fortune of meeting Amanda at church. At that time I had three small children. I was experiencing health problems, and unable to work. Amanda found out about my circumstances and delivered to my family, food, used toys, and clothing for my children. I was so grateful to her for her love and caring. We had a great Christmas that year. That is how I became involved in assisting her. A few years after I began helping her, she became ill. Amanda Strong passed away in 1990.
Before passing, she asked me to please keep this program going. That is what I have done. She did not leave me a job or hard work, she left me and my family a legacy of love, caring, and giving. I am so very grateful to live in such a caring community. I could not continue to achieve all that I have for Amanda without such great support from the people of Westfield."

"Love isn't put in your heart for to stay,
Love isn't Love until you give it away."

I would like to support the Amanda Strong Food for the Needy, Inc. program to provide a Holiday Basket to a local family.
A donation of $100.00 will help fill a Westfield area family's pantry, provides fresh food for the holiday dinner, and helps purchase gifts for the children.

If you would like to make a monetary donation, you can click on the donation tab at the top of this page for the donation form.

The Amanda Strong Food for the Needy, Inc. (Federal ID # 26-1133813)
is a qualified corporation under section 501(c)3 of the revenue code.
Your contribution is tax deductible.
What is the Amanda Strong Food for the Needy, Inc.?
This program, started in 1980, serves Westfield families in need.
Each Christmas season, holiday food baskets are prepared and distributed, all made possible by donations and community volunteers.
We also furnish each child with new clothes, socks, t-shirt, underwear, hat, mittens, and new unwrapped toys. Each child on our list receives these items from age 1 to 18 years if they are still in school.
We collect non- perishable food. We are in need of soaps, shampoo, toothpaste, deodorants, paper products, laundry detergents.
Anyone wanting to have a food or new toy drive, hold an event or fundraiser to assist in donations for the Amanda Strong, or if you would want to be a drop-off site, please contact me by phone or email.
To find out more about Food for the Needy,

This program is entirely supported by
donations and events that are designed to
increase awareness and support.
If you would like to assist a local family
during the holiday season, please click donation tab at the top of this page to get the donation form.
Special Thanks to : Westfield Washington School, , City of Westfield. Boy Scouts, Girl Scouts, , Open Doors of Washington Township, , , , Robert & Michelle Beauchamp, Fraternal Order Of Police .
For more information please contact:
Sharon Hodson, President
Phone: 317-896-2064
Fax: 317-896-2064
email: hodsonars@gmail.com
web site: http://amandastrongfftninc.tripod.com